PAST FILMMAKER TOURS
PHOTOS FROM THE TIERRALISMO GOOD EARTH FILM TOUR.
APRIL 13 - MAY 7, 2015
New York / Chicago / Detroit /Philadelphia/Vermont
CHICAGO
PHILADELPHIA
TIERRALISMO GOOD EARTH FILM TOUR
The Tierralismo Good Earth Film Tour included screenings of the recently released documentary, Tierralismo: Stories from a Cooperative Farm. Part of the AMI Cuba catalogue, Tierralismo is about the history and practices of one of Cuba's most successful urban farms, the Organoponico Vivero Alamar (Alamar Organic Cooperative). Tierralismo, introduces viewers to everyone from agronomists and senior management to workers who plant, plow, and propagate. What began as a necessity - farming without pesticides and chemical fertilizers - has become a source of pride to coop members. The film shows how they fertilize with compost and cow manure, raise their own insects for biological pest control, and have even created a fully biodegradable alternative to the plastic bag for use with seedlings.
Tierralismo also covers non-farming aspects of the operation, such as human resources and accounting practices. In a land where financial resources are scarce and governmentally controlled, transparency and trust are paramount. Many of the coop's members have come from other fields - including a former pathologist, a fisherman, and an oil-industry worker. More than half are seniors - including an 82-year-old who says when it comes to hoeing, he can outwork anyone in their twenties. This is a film not only about the food and the farm but the characters who make it happen.
The filmmaker, Alejandro Ramirez, and one of the co-founders of the Organoponico, Isis Salcines, accompanied the tour, and created a dynamic forum to share knowledge and create learning opportunities on film and food security, and the people who are driving both movements in Cuba. Alexandra Halkin, Director of AMI was accompanied by the Cuban visitors on the tour. Not only did the tour provide an opportunity for a diverse U.S. audience to hear firsthand about experiences in urban agriculture from Cubans, but the Cuban visitors were able to learn from academics, government representatives, and community activists engaged in building sustainable food systems in various locations throughout the United States.
By meeting with food activists in the Midwest and the Northeast, and farmers, activists and policy makers in Vermont, the Tierralismo Good Earth Film Tour aims to provide a critical link and foster meaningful learning among leaders of urban agriculture in Cuba with those in the U. S. In the context of Cuba's move toward a more market-based economic model, the experiences that Ms. Salcines saw firsthand in the U.S.—innovative marketing strategies, cooperative producer and consumer structures, and trans-disciplinary research and education approaches—helped to provide new tools that can be adapted in a changing Cuba. U.S. citizens, food activists, farmers, professors and policymakers will learn from the Cuban experience, seeing and hearing firsthand the innovative techniques Cuban farmers have devised to produce healthy food under difficult circumstances and with scarce resources. The Tierralismo Good Earth Film Tour will be about sharing experiences and identifying potential collaborations among the multiple actors needed to ensure access to healthy food for all people.
NEW YORK CITY/NEW JERSEY, April 13 -15
April 14, Bloomfield College, New Jersey
April 15, South Bronx Documentary Center
CHICAGO, April 16-18
Organized by Growing Home
DETROIT, April 19 - 20
Organized by the Detroit Black Community Food Security Network
PHILADELPHIA, April 21 - 24
April 21,
Bryn Mawr College
7:00 - 9:00 pm
Thomas Hall 110
VERMONT, April 26 - May 3
Organized by AMI and the Vermont Carribean Institute
April 28, 4 - 6 pm, University of Vermont, Davis Center, Livak Ballroom
May 2, 7 - 9 pm, Mainstreet Landing, Burlington waterfront
May 3, 5 - 7 pm, Plainfield Opera House, Plainfield, VT
Tierralismo Good Earth Film Tour Bio's:
Isis Salcines graduated in 1995 from the Polytecnic Institute "Osvaldo Herrera" with a degree in Telephone Systems and Data. Upon graduation she began working as a long distance operator at the ETECSA (Government telephone company). In 1998, Ms. Salcines was laid off from her job at the ETECSA and began working at the Organoponico Vivero Alamar (Alamar Organic Cooperative). Starting in 2003 she helped design and launch a new food preservation project. In 2007 she enrolled in a six-month course in agricultural studies and in 2008 she began to focus on the marketing and distribution of local organic produce to domestic and international markets. In 2012, she became the Projects Coordinator in the Projects and Investments Office at the Organoponico, and she continues her work in that role to this day. In 2013, Ms. Salcines received an advanced studies degree in Agricultural Engineering. During her time at the cooperative, Ms. Salcines has participated in national and international forums such as TERRA MADRE in Italy (2008 and 2010), the first Urban Agriculture Summit (held in Canada in 2012), and in a series of workshops in Panama about environmental conflicts (2013).
Alejandro Ramírez is a Guatemalan photographer and film director who grew up and currently lives in Alamar, Cuba. He graduated from Facultad de Arte de los Medios de Comunicación Audiovisual de Instituto Superior de Arte, (The School for Audiovisual Communication at the Superior Arts Institute, ISA) in Havana, Cuba. As a photographer he has had 14 solo exhibitions and 10 group exhibitions, and he collaborates with several magazines and media outlets. He has participated in the production of various films and videos as a sound engineer, cameraman, assistant director and director of photography. As a director he has made many documentaries that have won national and international awards. He is a Film Professor at the ISA.
Cuban Filmmaker Marcelo Martín in US. Nov. 5-11, 2014
The new Cuban documentary, Elena follows several residents in the Elena building located in Central Havana over a three-year period and represents one of the first contemporary investigative documentaries made in Cuba about a serious problem that is affecting many Cubans.
Elena was filmed with a small mini-dv camera by Director, Marcelo Martín. Mr. Martín is part of the new generation of documentary filmmakers living in Cuba who are documenting the many serious issues facing Cuban society with the intent to provoke discussion within Cuba.
TOUR SCHEDULE
click on the date for more information
Drexel University
URBN Center Screening Room 349
Email: inclusion (at) drexel.edu
NEW YORK CITY DATES:
Friday, Nov. 7. 6pm
POV
20 Jay Street, Suite 940
Brooklyn, NY
Maysles Documentary Center
343 Lenox Avenue/
Malcolm X Blvd
New York University
The Center for Media,Culture, and History
King Juan Carlos I of Spain Center
Screening Room
53 Washington Square South
CUNY Graduate Center
365 Fifth Avenue.
Room 5103
This is AMI'S fifth US Cuban filmmaker tour. These tours have traveled to 33 college campuses and presented to over 2,000 college students and faculty. In the fall of 2013, AMI brought filmmaker Marilyn Solaya, with her film In the Wrong Body, on a tour of nine universities. AMI's current tour will be screening Mr. Martín's most recent documentary, ELENA.
SYNOPSIS: ELENA, Dir. Marcelo Martín, 42:20, 2012
(Spanish with English subtitles)
Since 1988, following a decision by the government to demolish the bathrooms and kitchens of a wing of the building Elena, the inhabitants still await the repairs.
These tenants of Elena are experiencing an alarming deterioration of their property along with the social degradation that has affected their daily life. Threatened by an imminent collapse of their building these residents are also victims of endless broken promised by the government. Some await a miracle while others have adapted to coexist with misery, where even death doesn't scare them anymore. Elena is just one example among thousands of buildings in Havana in similar conditions.
Marcelo Martín graduated from Visual Communication Design at the Superior Institute of Design (ISDI), and began as a director of television commercials. Marcelo has directed numerous documentaries and advertising and commercial productions. He currently works as a Director and Publicist connected to various film production companies and advertising agencies inside and outside of Cuba.
Script and Direction: MARCELO MARTÍN
Production: MARCELO MARTÍN / VICENTE SENDRA
Editing: DANIEL DIEZ, Jr.
Camera: MARCELO MARTÍN / DANIEL DIEZ, Jr.
Investigation: MAYELÍN NÚÑEZ
Soundtrack: ESTEBAN VÁZQUEZ
Original Music: DARIAN CABANELAS
Produced by: ABARCA FILMS / ORPROSEN INC
---
Cuban Filmmaker Marilyn Solaya to Tour US, Fall 2013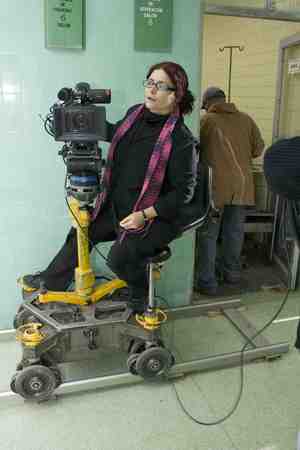 Ms. Solya has had a unique trajectory in Cuban cinema, starting out as film actress in films such as Tomás Gutiérrez Alea y Juan Carlos Tabío's, renowned, Strawberry and Chocolate (Fresa y Chocolate) and then returning to film school to study Directing. Ms. Solaya presented her award winning documentary feature, In the Wrong Body (En el cuerpo equivocado) at US universities, film festivals, and community centers throughout October 2013.
In the Wrong Body tells the story of Mavi Susel, who underwent the first gender reassignment operation in Cuba in 1988. In the Wrong Body explores such timely issues as the meaning of femininity in the macho and patriarchal society in Cuba where many stereotypes and prejudices still exist. Mariela Castro, Director of the Cuban National Center for Sex Education (CENESEX) was a primary consultant on the film. The film was produced as part of the Latin American DocTV initiative.
In the Wrong Body
(En el cuerpo equivocado)
, 55 min., 2010, Spanish with English subtitles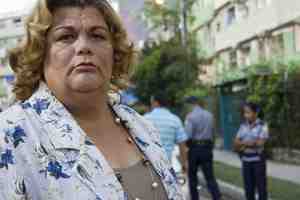 Photographs from U.S. tour with Marilyn Solaya
| | | |
| --- | --- | --- |
| | | |
| | | |
| | | |
| | | |
| | | |
AMI October 2012 Tour with Cuban Filmmaker, Karel Ducasse
AMI organized a U.S. university tour for 32 yr. old Afro-Cuban filmmaker Karel Ducasse. AMI is distributing Karel's important documentary, Zone of Silence, about artistic censorship in Cuba. We recognize the value of making space in the U.S. for emergent and critical Cuban voices in the arts and for these Cuban filmmakers to receive feedback about their work outside of Cuba. Karel engaged in lively discussions with students at Hamilton College, the University of Vermont, and Champlain College and during two presentations with the general public at the Vermont International Film Festival. This was Karel's first trip outside of Cuba and at the end of his visit he said…"I'm another person after this trip, it has changed my life…"

AMI – Cuba Media Project - East Coast Tour
Fall 2011 October 26 - November 7 with Award-Winning Cuban Documentary Filmmaker, Rigoberto Jiménez
As part of AMI, the Cuba Media Project's mission is to showcase Cuban independent and community media and to introduce noteworthy Cuban filmmakers to audiences in the United States. With this in mind, we are proud to have brought award-winning Cuban documentary filmmaker Rigoberto Jiménez to the United States in the fall of 2011.
Rigoberto is one of the founders of the community media project TV Serrana, which is based in Cuba's Sierra Maestra mountains. He is currently engaged in the pre-production of his first feature film, On the Riverside, a work of fiction based on his documentary The Four Sisters. The sisters, who never married, have lived together all their lives in the Sierra Maestra. (See below for a clip of The Four Sisters.)
The Four Sisters (excerpt) Rigoberto presented his documentaries at the Vermont International Film Festival, The Museum of Modern Art, New York City and universities in Vermont, Massachusetts and New York City between October 25 and November 7. This was the first time Mr. Jiménez visited the US. Organized by Burlington-based Americas Media Initiative—Cuba Media Project, whose mission is to present Cuban filmmakers in the United States, and, through cultural exchange, increase understanding and foster dialogue between US and Cuban citizens.
Mr. Jiménez presented his documentaries and some of the work of International Film and Television School (EICTV) at the Vermont International Film Festival, October 27 and 29. Afterwards he screened his work at the University of Vermont, Clark College, Middlebury College and at Dartmouth College. His presentation was part of the New England Council of Latin American Studies Conference. Mr. Jiménez ended his tour as part of the Modern Monday Series at The Museum of Modern Art on November 7th.
Rigoberto Jiménez graduated with a degree in Literature from the Eastern University in Santiago, Cuba. Mr. Jimenéz joined TVS, when it emerged in 1993—in the middle of Cuba's most severe economic crisis—helping to create a unique community video project deep in the Sierra Maestra mountains. Founded with funding from UNESCO and support from the Cuban government and the National Association of Small Farmers (ANAP), TVS is the first community and participatory television project in Cuba, and is unique in Latin America. Mr. Jiménez has produced the majority of the documentaries on which TVS's reputation is based, and his work has received many national and international awards.
In 2004, Mr. Jiménez won the prestigious Caracol Prize for his screenplay for On the Riverside a feature fiction film based on his 1997 documentary, The Four Sisters about four sisters who never married and have lived together since birth on their isolated farm in the Sierra. Mr. Jiménez has also worked on documentary productions outside of Cuba, with indigenous communities in Honduras and Argentina and has collaborated with UNICEF on productions about childhood and community work in Cuba. Mr. Jiménez currently runs the First Year Program at EICTV outside of Havana.
Mr. Jiménez traveled with Alexandra Halkin, a documentary filmmaker and Founding Director of the Americas Media Initiative—Cuba Media Project. Ms. Halkin, a Guggenheim and Fulbright Fellow, has been working on documentary projects in Cuba for nearly two decades. Ms. Halkin is also the Founding Director of the Chiapas Media Project, a media initiative that works with indigenous communities in Southern Mexico. The Americas Media Initiative—Cuba Media Project is a new organization focused on the distribution of Cuban independent and community media in the United States.
VTIFF Cuban Showcase 1- October 27
VTIFF Cuban Showcase 2- October 29
Recent Interview (in Spanish) with Rigoberto Jiménez in La Gaceta de Cuba, 2011
For further information please contact us by email.
Rigoberto Jiménez's Documentaries:
A Bridge over the River (Un Puente sobre el Rio) Director: Rigoberto Jiménez, Spanish with English subtitles, 30 minutes, 2009 In the middle of Cuba's central mountains lives Lency, a man with no limits on his inventiveness and creativity – he has a solution for everything – the lack of transportation, electricity, domestic labor, etc. He is a regular family guy but he does things a little bit differently, figures out ways to deal with daily problems and helps out his neighbors in tough times.
The Infinite Island (La Isla Infinita) Director: Rigoberto Jiménez, Spanish with English subtitles, 2011
A peasant takes a long and difficult journey over the mountains of the Sierra Maestra to buy a new mule, a absolute necessity for his life and fundamental part of his identity. This is a journey that has been repeated for generations. This is a journey that often transcends its original purpose and becomes a metaphor for describing a process, time, the never- ending search. Filmmaker Rigoberto Jiménez mixes documentary and fiction to tell this enduring story of life in the Sierra Maestra mountains of Cuba.

Lookout at TV Serrana in the Sierra Maestra mountains
Americas Media Initiative (AMI) – Cuba Media Project announces the release of five new Cuban independent documentary productions. The documentaries cover subjects such as Santería, racism, censorship and campesino life.
Americas Media Initiative's mission is to produce, distribute, and screen video and film made in the Americas by independent filmmakers and community media organizations. Through public screenings at universities, cultural institutions, community media organizations and film festivals, our goal is to broaden the US audience's understanding of issues faced by marginalized populations in our hemisphere and to encourage further investigation through cultural exchange.
For further information contact us at info@americasmediainitiative.org