PAST FILMMAKER TOURS
Cuban Filmmaker Marilyn Solaya to Tour US, Fall 2013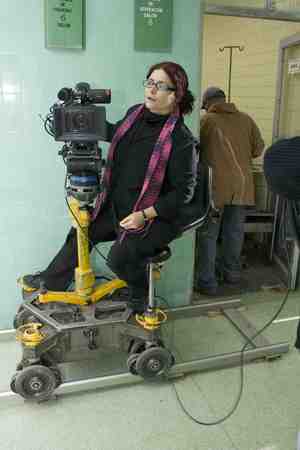 Ms. Solya has had a unique trajectory in Cuban cinema, starting out as film actress in films such as Tomás Gutiérrez Alea y Juan Carlos Tabío's, renowned, Strawberry and Chocolate (Fresa y Chocolate) and then returning to film school to study Directing. Ms. Solaya presented her award winning documentary feature, In the Wrong Body (En el cuerpo equivocado) at US universities, film festivals, and community centers throughout October 2013.
In the Wrong Body tells the story of Mavi Susel, who underwent the first gender reassignment operation in Cuba in 1988. In the Wrong Body explores such timely issues as the meaning of femininity in the macho and patriarchal society in Cuba where many stereotypes and prejudices still exist. Mariela Castro, Director of the Cuban National Center for Sex Education (CENESEX) was a primary consultant on the film. The film was produced as part of the Latin American DocTV initiative.
In the Wrong Body
(En el cuerpo equivocado)
, 55 min., 2010, Spanish with English subtitles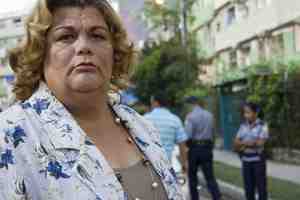 Photographs from U.S. tour with Marilyn Solaya
| | | |
| --- | --- | --- |
| | | |
| | | |
| | | |
| | | |
| | | |
AMI October 2012 Tour with Cuban Filmmaker, Karel Ducasse
AMI organized a U.S. university tour for 32 yr. old Afro-Cuban filmmaker Karel Ducasse. AMI is distributing Karel's important documentary, Zone of Silence, about artistic censorship in Cuba. We recognize the value of making space in the U.S. for emergent and critical Cuban voices in the arts and for these Cuban filmmakers to receive feedback about their work outside of Cuba. Karel engaged in lively discussions with students at Hamilton College, the University of Vermont, and Champlain College and during two presentations with the general public at the Vermont International Film Festival. This was Karel's first trip outside of Cuba and at the end of his visit he said…"I'm another person after this trip, it has changed my life…"

AMI – Cuba Media Project - East Coast Tour
Fall 2011 October 26 - November 7 with Award-Winning Cuban Documentary Filmmaker, Rigoberto Jiménez
As part of AMI, the Cuba Media Project's mission is to showcase Cuban independent and community media and to introduce noteworthy Cuban filmmakers to audiences in the United States. With this in mind, we are proud to have brought award-winning Cuban documentary filmmaker Rigoberto Jiménez to the United States in the fall of 2011.
Rigoberto is one of the founders of the community media project TV Serrana, which is based in Cuba's Sierra Maestra mountains. He is currently engaged in the pre-production of his first feature film, On the Riverside, a work of fiction based on his documentary The Four Sisters. The sisters, who never married, have lived together all their lives in the Sierra Maestra. (See below for a clip of The Four Sisters.)
The Four Sisters (excerpt) Rigoberto presented his documentaries at the Vermont International Film Festival, The Museum of Modern Art, New York City and universities in Vermont, Massachusetts and New York City between October 25 and November 7. This was the first time Mr. Jiménez visited the US. Organized by Burlington-based Americas Media Initiative—Cuba Media Project, whose mission is to present Cuban filmmakers in the United States, and, through cultural exchange, increase understanding and foster dialogue between US and Cuban citizens.
Mr. Jiménez presented his documentaries and some of the work of International Film and Television School (EICTV) at the Vermont International Film Festival, October 27 and 29. Afterwards he screened his work at the University of Vermont, Clark College, Middlebury College and at Dartmouth College. His presentation was part of the New England Council of Latin American Studies Conference. Mr. Jiménez ended his tour as part of the Modern Monday Series at The Museum of Modern Art on November 7th.
Rigoberto Jiménez graduated with a degree in Literature from the Eastern University in Santiago, Cuba. Mr. Jimenéz joined TVS, when it emerged in 1993—in the middle of Cuba's most severe economic crisis—helping to create a unique community video project deep in the Sierra Maestra mountains. Founded with funding from UNESCO and support from the Cuban government and the National Association of Small Farmers (ANAP), TVS is the first community and participatory television project in Cuba, and is unique in Latin America. Mr. Jiménez has produced the majority of the documentaries on which TVS's reputation is based, and his work has received many national and international awards.
In 2004, Mr. Jiménez won the prestigious Caracol Prize for his screenplay for On the Riverside a feature fiction film based on his 1997 documentary, The Four Sisters about four sisters who never married and have lived together since birth on their isolated farm in the Sierra. Mr. Jiménez has also worked on documentary productions outside of Cuba, with indigenous communities in Honduras and Argentina and has collaborated with UNICEF on productions about childhood and community work in Cuba. Mr. Jiménez currently runs the First Year Program at EICTV outside of Havana.
Mr. Jiménez traveled with Alexandra Halkin, a documentary filmmaker and Founding Director of the Americas Media Initiative—Cuba Media Project. Ms. Halkin, a Guggenheim and Fulbright Fellow, has been working on documentary projects in Cuba for nearly two decades. Ms. Halkin is also the Founding Director of the Chiapas Media Project, a media initiative that works with indigenous communities in Southern Mexico. The Americas Media Initiative—Cuba Media Project is a new organization focused on the distribution of Cuban independent and community media in the United States.
VTIFF Cuban Showcase 1- October 27
VTIFF Cuban Showcase 2- October 29
Recent Interview (in Spanish) with Rigoberto Jiménez in La Gaceta de Cuba, 2011
For further information please contact us by email.
Rigoberto Jiménez's Documentaries:
A Bridge over the River (Un Puente sobre el Rio) Director: Rigoberto Jiménez, Spanish with English subtitles, 30 minutes, 2009 In the middle of Cuba's central mountains lives Lency, a man with no limits on his inventiveness and creativity – he has a solution for everything – the lack of transportation, electricity, domestic labor, etc. He is a regular family guy but he does things a little bit differently, figures out ways to deal with daily problems and helps out his neighbors in tough times.
The Infinite Island (La Isla Infinita) Director: Rigoberto Jiménez, Spanish with English subtitles, 2011
A peasant takes a long and difficult journey over the mountains of the Sierra Maestra to buy a new mule, a absolute necessity for his life and fundamental part of his identity. This is a journey that has been repeated for generations. This is a journey that often transcends its original purpose and becomes a metaphor for describing a process, time, the never- ending search. Filmmaker Rigoberto Jiménez mixes documentary and fiction to tell this enduring story of life in the Sierra Maestra mountains of Cuba.

Lookout at TV Serrana in the Sierra Maestra mountains
Americas Media Initiative (AMI) – Cuba Media Project announces the release of five new Cuban independent documentary productions. The documentaries cover subjects such as Santería, racism, censorship and campesino life.
Americas Media Initiative's mission is to produce, distribute, and screen video and film made in the Americas by independent filmmakers and community media organizations. Through public screenings at universities, cultural institutions, community media organizations and film festivals, our goal is to broaden the US audience's understanding of issues faced by marginalized populations in our hemisphere and to encourage further investigation through cultural exchange.
For further information contact us at info@americasmediainitiative.org